ALIF is a minimally invasive procedure used to treat vertebral compression fractures (VCF), which are fractures of the vertebra. These fractures commonly occur as a result of osteoporosis, spinal tumors, or injury, and can cause severe pain and limited mobility. They can also lead to abnormal spine curvature and increase a patient's risk for serious spinal complications.
In many cases, vertebral fractures can be treated through conservative methods such as bed rest, a back brace, or pain medication. Like fractures in other areas of the body, these fractures can heal on their own. However, patients with osteoporosis or whose fractures have caused severe, long-term pain may benefit from a minimally invasive procedure such as ALIF to relieve symptoms. This procedure is also recommended for patients who are too weak to undergo spinal surgery or have a malignant tumor within the spine that has caused vertebral damage.
Dr. Lipani will perform an X-ray examination of the spine to determine the specific location and severity of the fracture, as well as how long ago they occurred. ALIF is most effective when performed on fractures that are less than six months old.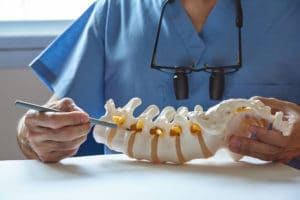 What are the benefits of ALIF surgery?
The goal of any fusion surgery is to remove the source of chronic pain the patient is feeling due to a degenerated disc. This is typical in the bottom of the lumbar spine, at the L4 and L5 vertebrae, and into the S1 of the sacrum. ALIF surgery is designed to stop the motion at the symptomatic segment of the spine.
Because this procedure is performed by Dr. Lipani through the abdomen, the anterior side of the body, there is significantly less pain and recovery is faster than with fusion performed from the back. Also, a larger cage can be placed. Anterior access allows Dr. Lipani to move the organs and blood vessels to the side without needing to move the nerves, as is necessary for posterior approaches.
In some cases, Dr. Lipani may not have to perform the full fusion but instead can simply inject bone cement into the fractured vertebra. This stabilizes the fracture and relieves pain. As with ALIF, he enters through the anterior side of the body. In these procedures, recovery is even quicker.
Who are ideal candidates for ALIF surgery?
Whether Dr. Lipani performs full fusion with ALIF or if he performs what amounts to vertebroplasty, where bone cement is injected into the fractured vertebra, it depends on if the patient's pain is originating due to a degenerating spinal disc or from a fractured vertebra. Often both issues are involved, which would merit fusion.
Candidates for these procedures should have progressed through the course of non-surgical treatments. These would include rest, physical therapy, pain medication, possible insertion of a pain pump, and possible bracing. These treatments should have been in place for at least six months, yet the patient still has the same chronic pain. This has begun to impact the patient's life. Now is the time for ALIF surgery.
During the ALIF procedure, an injection of a bone cement solution is administered into the affected vertebra to stabilize the fracture and relieve pain. This procedure is performed under X-ray guidance to ensure precise delivery of the cement solution, which hardens in approximately 20 minutes. The needle is then removed and a bandage is placed over the injection site, with no need for sutures. ALIF is performed using only a local anesthetic on an outpatient basis. In most cases, patients will be able to return home about an hour after their procedure.
Patients suffering from vertebral fractures may be treated with ALIF or kyphoplasty, which are very similar procedures, aside from the fact that kyphoplasty involves inserting a balloon into the fractured bone to restore it to its original height and shape before filling it with cement. Dr. Lipani will determine which treatment is right for you based on a thorough evaluation of your condition.
Hear What Our Patients Have To Say
"Dr. Lipani is the finest neurosurgeon! Compassionate, Caring, Down to Earth with his professionalism; he is the best! My son Alan, had an L-4/ L/5 Spine Fusion, 7.5 hour surgery and I can not thank the "Great Doctor"/Surgeon for his dedication, kindness and caring." – Alan B.
"The Doctor outstanding in every way possible. Explaining every detail and taking his time to do so. Amazing for a surgeon to be so informing of the procedure to me and my wife. After the surgery he came out and explained everything to me. My wife is doing great after the cervical spine fusion, moving her arm in ways she hasn't in years and getting her feeling back in her fingers" – Anthony R.
"Dr. Lipani and his staff are excellent. Dr. Lipani was very thorough. He explained what needed to be treated and why. He has terrific bedside manners. He answered all my questions patiently. Did not rush me at any time. I recommended him to one of my friends and she was extremely happy with him too." – Poornima S.
After the ALIF procedure, most patients experience immediate pain relief and are able to return to normal activity within 24 hours. Others will notice a more gradual reduction in pain and may experience soreness or pain caused by the procedure that can last up to two weeks. The treated area will be covered with a bandage at all times for the first few days after surgery, but patients can apply an ice pack to the area to relieve any discomfort.
Patients can return home the same day but should rest and increase activity levels gradually. Most patients will experience a significant increase in functional abilities with no need for physical therapy or rehabilitation. The regained mobility and increased activity levels also help fight the effects of osteoporosis for a reduced risk of future complications.
Heavy lifting and other strenuous activities should be avoided for at least six weeks after treatment. Dr. Lipani will provide you with specific post-operative instructions based on your individual condition.
ALIF is considered a safe procedure with only a minimal risk of complications for most patients. As with any type of surgical procedure, there are risks of infection, bleeding, increased back pain, numbness, and tingling. There is also a risk that some of the cement may leak out of the vertebral body, although this is not usually a major problem.
Dr. Lipani will discuss any potential risks with you prior to surgery and help you decide whether or not this procedure is right for you. Most patients experience effective results from the ALIF procedure with no major side effects or complications.
Because Dr. Lipani gains access through the abdomen, he doesn't have to cut or move back muscles and nerves. These remain undisturbed with the anterior approach. This dramatically reduces recovery pain. How much discomfort you'll have is correlated to the length of the incision and to whether you required the full fusion procedure or Dr. Lipani simply injected bone cement to stabilize the targeted vertebra.
During your consultation, Dr. Lipani will have a good idea of what will be involved in your particular situation and he can walk you through what to expect during your recovery.
Whether using minimally invasive vertebroplasty or full ALIF surgery, entering through the anterior side of the body involves far less risk than posterior options. The possibility of damaging nearby nerves doesn't exist with the anterior approach.
Of course, this is surgery, no matter which method is used, so it involves the risks inherent with any surgery: reaction to anesthesia, infection, excessive bleeding, and the like. These are exceedingly rare thanks to Dr. Lipani's board certification and extensive training and experience with spinal surgeries.
If you have ALIF surgery, the main risk is that the graft will fail and fusion between the two vertebrae involved will not occur. If this happens, additional surgery would be necessary. The other risk is that the patient's pain is not completely relieved.
How much does ALIF surgery cost?
As mentioned above, Dr. Lipani may be able to perform a minimally invasive procedure to inject bone cement, rather than requiring full ALIF surgery. That would change the surgery and the costs involved. When Dr. Lipani is able to ascertain your particular situation, our team will provide you with full cost estimates, including what your insurance coverage should be.
Is ALIF surgery covered by insurance?
Yes. These are considered to be medically necessary for patients who have exhausted conservative treatment options and are still suffering from chronic pain. Because of that, they are eligible for insurance coverage from all providers.
Schedule a Consultation Today!
If you're interested in learning more about ALIF surgery please contact us for a consultation at (609) 890-3400 or fill out our contact us form. We will discuss your needs and concerns, and determine your best course of action.